The update for MAC is now available at:
https://jmp.sh/uLzsNr3
* The FL2084_files.zip files should be copied into the Warbirds App/Contents/Resources folder for MAC users. (PC users just copy them into your main Warbirds directory if the normal updater isn't working)
* The sounds files need to be copied into the sounds directory.
* The ui-rawplanedata files need to be copied into ui\rawplanedata. (the "rawplanedata" folder is found inside the "ui" folder)
--------------------
Rgr Gasted, sir. I had to get the update out as fast as possible to fix the broken planes, so I only quick tested roll rate at slow speed. Will fix the high speed aileron and rudder authority for the A-4 and G-6 in the next update. All other performance numbers should be close to real life performance for the Ju 88G-6 though.
I find it unlikely the Ju 88G-6 can outrun a P-39Q unless the P-39 pilot was doing something really wrong, or only used base throttle. Note that any plane can catch another plane if it starts at a much greater speed/altitude, or none of them have reached their top speed yet. (i.e. top speed is irrelevant when both planes start the chase at a slow speed, as it's rather a pure acceleration competition until they get close to their top speeds).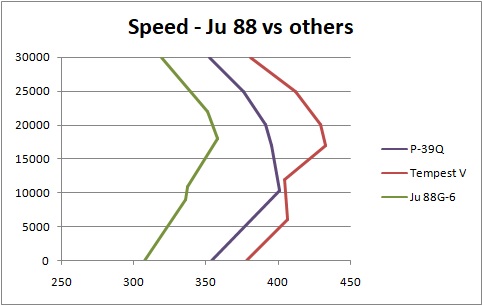 Turn rate wise the Ju 88G-6 has a large wing area, and quite good power vs weight ratio with the twin Jumo 213 engines. The Fw 190 is the one of the worst turning single engine fighters in the game, with really bad wingloading. From my tests the Ju 88G-6 and Fw 190D-9 should be fairly close, with the Focke Wulf gaining the advantage in a sustained turn rate fight if the pilots are of equal skill.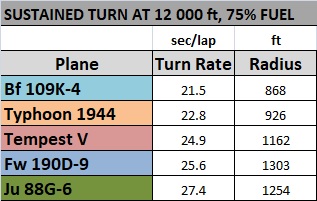 <S>
/Robert