<S>
Been quite busy with life for half a year but started flying again and looking to tweaking some planes again.
I've started to check up on the Bf 110's of what needs fixing.
From my tests so far, it seems the Bf 110's definitely need a nerf to their roll rate with the next update. They are currently way to agile in this department. When it comes to other aspects like turn rate, acceleration, speed, climb rate etc, they seem to be quite on par with estimated real world performance based on dimensions, data, structure, engine data, WW2 test reports etc. Below are the tests and conlusions I've made this week. All input is welcome.
---== BF 110'S ==---

--= TURN PERFORMANCE =--
At full fuel and ammuntion, the wingloadings for the Spitfire XIV and Bf 110G are 35.1 and 41.9 respectively. As such one could assume the Spitfire XIV should outturn the Bf 110G. Wingloading however does not account for wing thickness. The Spitfire has razor thin wings at an average thickness ratio of around 9.5%, while the Bf 110 has a wing thickness ratio at a whooping 14.3%, almost like a Hurricane. (This is why the Hawker Hurricane and Hawker Typhoon can turn so damn well). This means that the Bf 110 should stall at around 5-7 mph less than the Spitfire XIV at the same wingloading, and at full load and 75% fuel, the Spitfire XIV should stall at around 89 mph (Power ON stall speed), and the Bf 110 should stall at around 90 mph (Power ON). As such they should have fairly the same turning performance when at the same power/weight ratio.
This is however only when looking at a clean wing and discounting the fact that the Bf 110 has leading edge slats, which allows it to turn even tighter than without slats. These should lower the stall speed of the Bf 110 by around 7-10 mph, from the data I've been able to find. At an equal power/weight ratio, the Bf 110G should easily outturn the Spitfire XIV, when using it's LE slats. In real life though the Spitfire XIV has a much better power to weight ratio, which should result in it having a larger turning radius, but a better turn rate performance. As such the Bf 110G can turn inside the Spitfire XIV in a dogfight for a while, but in a sustained rate fight the Spitfire XIV will eventually get behind the Bf 110G if both are turning at full power. This can also be seen below from the turning tests I made.

Something that also makes me think the Bf 110's have the correct turn performance is a British WW2 test that stated these results:
"It takes four turns for the Spitfire and Hurricane to get on the Bf 110's tail at 20000 ft when starting with the Bf 110 on their six."
I made turning tests at this altitude with the Spitfire I and the Bf 110C-4, and the resulting turn rates showed that the Spit I was able to turn almost exactly four laps in the time the Bf 110C-4 could turn three laps. This means the Spitfire I, in Warbirds, needs four laps to get back behind the Bf 110C-4, just like the real life WW2 tests showed.
One also has to remember the Bf 110G is a mid-war figher while the Spitfire XIV is a late war fighter. Usually late war fighters are faster but turn worse than earlier war fighters. Just compare a Spit XIV to a Spit Vc, a Ki-84 to a Ki-61, or a P-51D to a P-40E. If you are flying any late war plane and start turn fighting the Bf 110G, then you have usually messed up tactically. You should use your superior speed and climb rate patiently to boom n zoom the Bf 110G from above. Doing this the Bf 110G will be clearly disadvantaged and has to constantly dodge as you attack him from a higher altitude.
--= CONTROL AUTHORITY AT HIGH SPEEDS =--
According to a British WW2 flight test report:
"The aircraft controls are still quite maneuverable above 340 mph"
"Elevators are not to heavy in dive"
"The Bf 110 is maneuverable like a single engine fighter"
The Bf 110 should not lose control authority as fast as the Bf 109. It is currently set somewhere between a Bf 109 and most other fighters.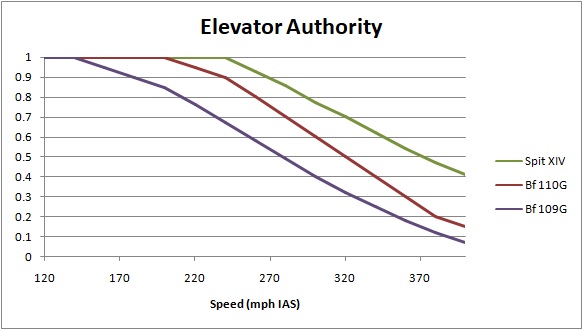 --= ROLL RATE =--
I made some tests and found that the roll rate is way to good for this twin engine fighter. I've now reduced it to ~60% of the current roll rate, so the Bf 110's should have a realistic roll performance with the next update. This will definitely affect their agility in close dogfights, making them more cumbersome to maneuver.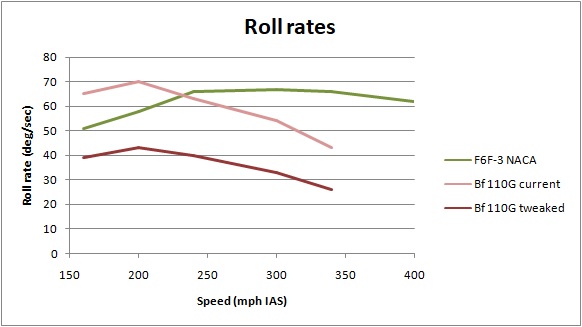 --= LOOP PERFORMANCE =--
I ran a test against the Spit XIV. The Spit XIV could do a full loop without stalling at a starting speed of 10-15 mph lower than that of the Bf 110G, so seems the Spit XIV loops better. Tbh not sure if all the fighters in Warbirds loop at the minimum speed required in real life, but that's hard to say without access to a report from a real world pilot making actual test of the lowest speed he can loop at in various ww2 fighters.
--= ACCELERATION TEST =--
From my tests today, the statement that the Bf 110G out-accelerates the Spitfire XIV is not true. Below are the results from going 100 mph to 300 mph at full WEP. As can be seen the Spitfire XIV accelerated from 100 mph to 200 mph in 12.6 seconds, and to 300 mph in 37.7 seconds. The Bf 110G needed 21.4 and 87.1 seconds respectively to reach those speeds.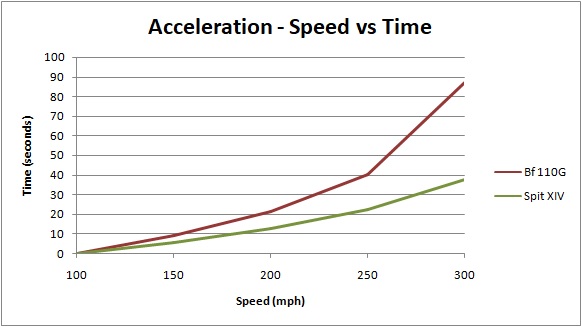 --= WEAPONS =--
Not sure how it's possible that your version of the Bf 110G has 800 rounds for the 37 mm cannon. In my game it only has 66 rounds. Can you send a screenshot of this, sir?
The loadouts for the Bf 110's were based on the data as follows:
Bf 110C-4
4x 7.7 mm: 1000 rounds/gun (Total: 4000 rounds)
2x 20 mm: 180 rounds/gun (Total: 360 rounds)
Bf 110G-2
2x 30 mm: Left gun 120 rounds, Right gun 135 rounds (Total: 255 rounds)
2x 20 mm: Left gun 400 rounds, Right gun 350 rounds (Total: 750 rounds)
Cannon pod: 2x 20 mm: 200 rounds per gun (Total: 400 rounds, 1150 rounds total with main 20 mm guns accounted for)
1x 37 mm: 66 rounds
<S> and all responses and arguments are welcome
/Robert