The update is now live and ready for download!
---== UPDATE FL2077: FALLSCHIRMJÄGERS OF THE IRON ANNIE ==---
By: Robert, Grumpy, Bollok, and Sleepy
All made possible by: Bcamel (creator of the program used to model the airplanes), and Idunno (who has shared a vast amount of aerodynamical knowledge).
--= Ju 52/3mg8e "Tante Ju / Iron Annie" =--
We are happy to announce that the Ju-52/3mg8e transport plane has been fully remodeled. It should now be closer to real life performance. See further down for details.
--= F6F-3 Hellcat =--
The Grumman F6F-3 Hellcat has been added to the Warbirds roster. See further down for details.
--= Skins =--
Several new skins from Iart7, and one from Nookyb, have been included in this update. These will be shown in a post below. The planes with new skins are the:
By Iart7: B5N2, Fw 190D-9, P-40F, P-40N-5, B-239, Hawk 75, Bf 109G-2e, Fokker D.XXI.
By Nookyb: SBD-5.
--= Fw 190's =--
Corrections to the dragco and engine setup for all Fw 190's. The dragco was previously to low due to the engines being modeled at min RAM performance instead of max RAM. All Fw 190's are now generelly somewhat slower at the deck, matching historical speed numbers, and have more horsepowers at higher altitudes. Fw 190 pilots need to be aware that it will be somewhat harder to outrun enemy fighters when down low, and keeping one's energy is now more important. The new higher dragco also has a small detrimental effect to the Fw 190's sustained turn rate, except at high altitudes where the higher dragco is balanced out by the increase in available horsepowers. All Fw 190's still handle the same way as before, so there are no changes to how they maneuver.
* FW 190D-9 dive speed reduced to historical 480 mph IAS, down from 510 mph which was a previous data error.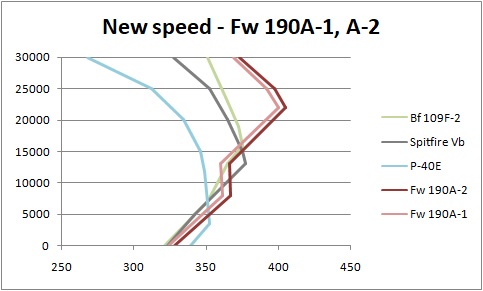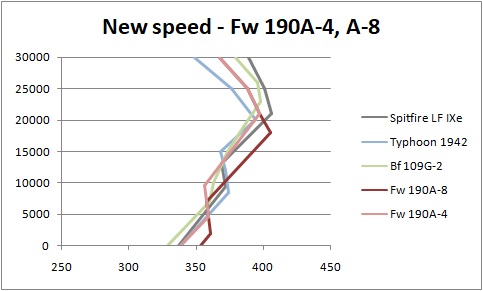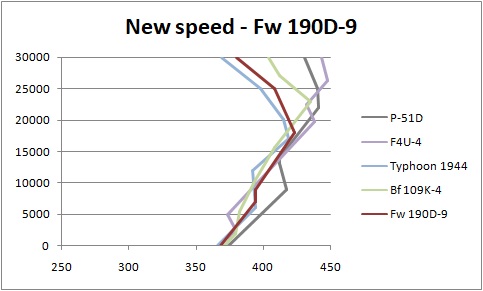 --= P-47-25 Thunderbolt, 44-1 fuel =--
* The P-47D-25 is now using 150 grade (44-1) fuel. This allows for a manifold pressure of 72" Hg at WEP, up from 65" Hg. This also allows Bst1, 52" Hg, to be run for 20 minutes, up from 15 minutes. The P-47D-22 still has a WEP of 65" Hg, using normal grade fuel.
* Correction to all P-47 service ceilings. Now set for 38500 ft for the P-47C, and 39000 ft for the P-47D's.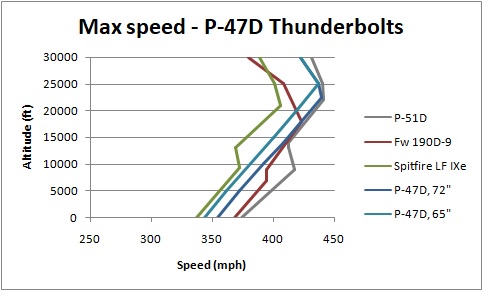 --= P-51D Mustang =--
Bst1 now usable for 25 min since the P-51D is using 150 grade fuel. This from calculations and comparing with several other engines.
--= Lavochkins and Yakovlevs =--
Stall speed corrections. These Russian fighters now stall at 2-3 mph less. This applies to the:
La-5F, La-5FN, La-7, La-7-3, Yak-3, Yak-9D, Yak-9U
--= F6F-5 Hellcat =--
Trim shake issue fixed. The F6F-5 would previously shake uncontrollably and lose a wing at auto-trim above 440+ mph.
--= F4U Corsairs =--
Minor handling tweak for all Corsairs for better stability.
--= B-17 Flying Fortresses =--
* Fuel capacity for the B-17G has been set to 1700 gal, down from 2780 gal. The Tokyo tanks have been removed since the B-17G should never need 12.6 hours of fuel time in Warbirds. 7.7 hours of fuel should be more than enough. This saves 6480 lb of weight.
* External bomb load limited to 2x 250 lb for the B-17F and 2x 500 lb for the B-17G. This since the game code doesn't simulate extra drag from external bombs. As such the B-17's would otherwise get full extra payloads without the significant speed loss this should cause. The extra drag was the reason why B-17 groups rarely used these external loadouts in real life. The small external bombs still allowed for the B-17's in Warbirds is as such a compromise.
* hitmap fix for the engines.
* The nose is now fully visible from inside the cockpit for the B-17G.
--= B-24 Liberators =--
Both B-24's have had their auxiliary 2x 225 gal tanks removed. The new max fuel load is 2343 gal and saves 2700 lb of weight since the B-24's don't need these auxiliaries in Warbirds.
--= C-47 Dakota and L2D3 Tabby =--
Paratrooper count reduced back to 24, this to avoid the graphics not renedering all troopers when to many troopers are running in one area (invisible paratroopers).
--= Roll rate correction to match NACA 868 data, making the below mentioned fighters more agile =--
* The F4F and FM-2 Wildcats have had their roll rate increased by ~25 deg/sec. This makes the Wildcats significantly more agile.
* The Brewster Buffalos have also had their roll rate increased by ~25 deg/sec.
* The Hawk 75, P-36 and P-40 Hawks have had their roll rate increased by ~20 deg/sec.
* The P-47 Thunderbolts have had their roll rate increased by ~10 deg/sec.
* Minor correction increase to the P-38F,G,J Lightnings roll rate by a few deg/sec.
* The F6F-5 has had it's roll rate improved compared to the F6F-3 NACA 868 data. The F6F-5 had spring loaded control tabs for the ailerons.
--= Hitpoints balance changes for all medium and large bombers =--
* Elevators will be unchanged.
* Rudders toughness increased by 33%.
* H-stab and V-stab increased by 19%.
* Rear- and central fuselages increased by 15%
* Ailerons, wings, flaps, and gear unchanged.
* Fuel tanks increased by 25%
* Engine Oil hydraulics increased by 33%
* Engines increased by 10%.
* All transport planes get a -50% penalty to rear- and central fuselage hitpoints (C-47, L2D-3, Ju 52).
--= Cockpit gauge needles corrected --=
The throttle, engine temperature, and flaps position indicator gauges have been corrected for several flightmodels.
* The throttle gauge needle now correctly points at 75 when you're at 75% throttle, 100 when at 100% throttle etc.
* The engine temperature gauges have also been set so that the needle now points at the edge of the gauge range when at 144 degrees for all planes fixed. There should now be no more confusion or guessing of how close you are to overheating when flying without the HUD.
* All planes affected now has the flaps indicator needle go to the max position at full flaps. This makes it easier to see your flaps position on the flaps gauge.
More flightmodels will have their gauges corrected with each update. The models fixed in this update are the:
P-36's, P-38's, P-39's, P-40's, P-47's, P-51's, F4F's, F4U's, F6F-5, Buffalos,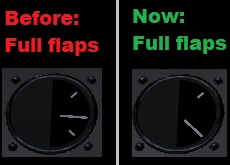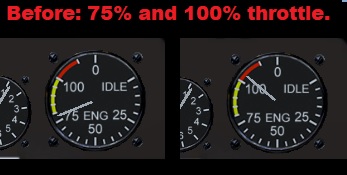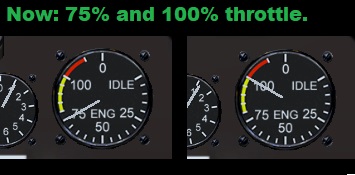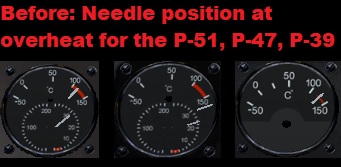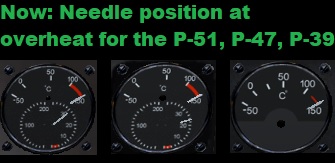 --= Japanese cockpit gauge needles corrected =--
All Japanese fighters and bombers have also had their cockpit gauges fixed.
* The speed gauge does not have all notches at a constant interval, but now correctly shows your speed between 200-400 kmh, and quite correctly below/above these speeds.
* The climb rate is now correctly shown on the gauge, but for some reason can't go above 2100 m/min.
* The flaps indicators have all been fixed, and now show the plane's full flaps at the end of the markings.
* Corrections to a few engine temperature gauges.
* The J2M compass now shows the correct heading. Was previously offset by 10 degrees.
--= Japanese boost names updated =--
A big thank you to Qweqwe for the translations.
* Koushou-Shutsuryoku = Rated/Military Power
* Kinkyuu-Shutsuryoku = Emergency Power
* Rishou-Shutsuryoku = Take Off Power
--= Vehicle information =--
The performance numbers in the Vehicle info has been updated, where applicable, for all flightmodels that have had corrections in this update. Pilots can find the Vehicle information button at the Tower menu.
---== THE JUNKERS JU 52/3MG8E "TANTE JU / IRON ANNIE" FULL REHAUL ==---
The Junkers Ju 52 started of as an airliner flying through the Alps and other routes around the world, and was in military use in the Colombia-Peru war of 1932, in the Spanish civil war and until the fall of the Reich. It was sturdy, draggy and very reliable. The /3mg8e version is powered by the improved BMW 132T-2 engines, which are capable of 820 hp for Take off, and 685 hp at 5000 ft for rated power. The high drag profile of the Tante Ju means this plane is not in a hurry compared to the C-47. The Ju 52 also does not have protected fuel tanks, meaning that it is vulnerable to hits in the wings. This German transport plane is easy to fly and the handling is quite forgiving. It is able to climb up to 20000 ft, and has it's best cruise speed at 5000 ft. The Ju 52 carries 12 Fallschirmjägers, while the C-47 can carry 28 paratroopers. The Ju 52 has an advantage over the C-47 though in that it can defend itself against interceptors. While the Dakota is unarmed, the Iron Annie has a 7.92 mm Mg firing out of each side of the fuselage. The earlier versions of the Ju 52 were also armed with a 7.92 mm Mg in the dorsal position, but the /3mg8e had this position upgraded with a 13 mm machinegun. A Ju 52 is usually still a snack for a Fw 190, but against lighter armed fighters the Iron Annie definitely has the potential of biting back.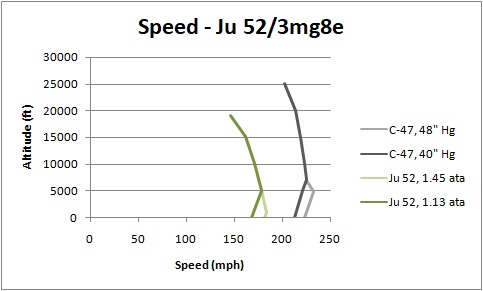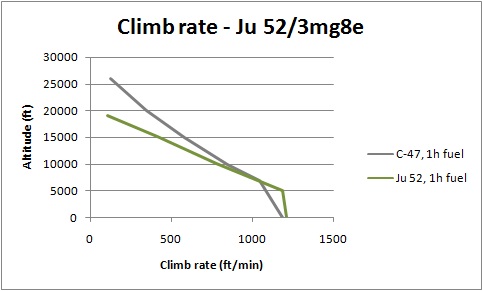 ---== THE GRUMMAN F6F-3 HELLCAT NEW FLIGHTMODEL ==---
The F6F-3 first engaged Japanese Zeros in November 1943 over Tarawa. Being the predecessor of the -5, the -3 is of course somewhat inferior in performance. The -3 is powered by the R-2800-10 "Double Wasp" engine, able to produce 2000 hp. The F6F-5 uses the -10W version which allows for water injection, and makes for a speed difference of 10-25 mph between the two versions, depending on altitude. While the F6F-5 rolls slightly better thanks to spring-loaded control tabs, they -3 and -5 are otherwise quite identical in handling, with the -3 being almost 100 lb lighter. The advantage of the F6F-3 is that it enters the RPS tour at RPS4, while the F6F-5 enters in RPS5. Historical entry dates are August 1943 vs July 1944 respectively.
The F6F was a carrier fighter built to be large and tough, able to boom n zoom fight against the A6M Zero, and showed to be superior of the two. The Hellcat is quite heavy though and should avoid going into a turn fight against Spitfires, Bf 109's or J2M's. When flying with a wingman, F6F pilots can use it's ruggedness, decent speed and 6x .50 cals well even against land based top fighters of the era. While the Hellcat turns better than a Corsair, it is not a great 1v1 duel plane against nimbler opponents.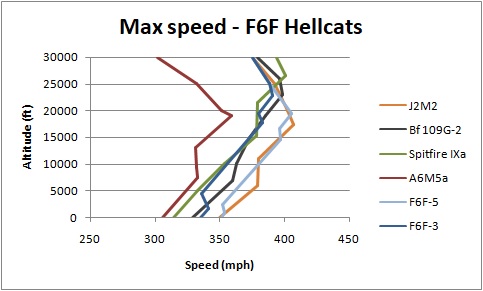 <S>
/Robert