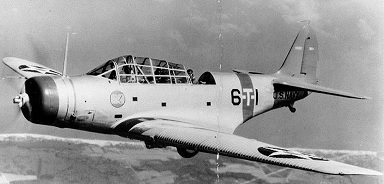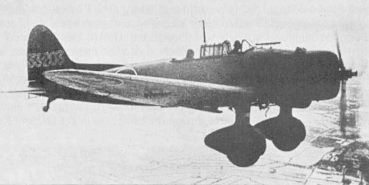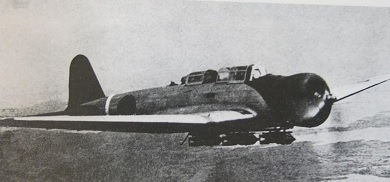 The update is now live!
---== UPDATE FL2071: NAVAL STRIKE FORCES ==---
By: Robert, Grumpy, Bollok and Iart7
All made possible by: Bcamel (creator of the program used to model the airplanes), and Idunno (who has shared a vast amount of aerodynamical knowledge).
--= TBD-1 Devastator =--
This update brings a rehaul to the "Devastator" naval torpedo bomber. It has been fully remodeled and should now quite closely match real ww2 performance. Pilots will note a significant change in performance since the TBD-1 now has it's historical Pratt and Whitney R-1830-64 Twin Wasp engine rated at 900 hp, not a 2150 hp engine as it was previously modeled with. See further down for details.
--= D3A2 Val =--
This update brings a rehaul to the "Val" naval dive bomber. It has been fully remodeled and should now quite closely match real ww2 performance. Note that it has now been modeled as the improved D3A2 instead of the D3A1. See further down for details.
--= B5N2 Kate =--
This update brings a rehaul to the "Kate" naval torpedo bomber. It has been fully remodeled and should now quite closely match real ww2 performance. See further down for details.
--= New skins =--
Beautiful new skins available, made by IArt7.
* MiG-3: Desert and Winter camo
* Fokker D.XXI: repainted default skin and a new Luftwaffe camo.
* P-36C: improved default skin and a new pursuit squad silver skin.
* Hawk75: Improvements to existing skins as well as a new Mohawk IV Bengal 1943 camo.
* F-86: Improvements to existing skins plus new Canadian and German skins.
--= Rear gun accuracy fix =--
Slight fix to the dispersion for all single engine dive bombers defensive machine guns, as well as the Bf 110's. The accuracy of the defensive guns will now have a more comparative dispersion relative to each other, based on type of gun and mount.
--= Engine torque fix =--
The Bf 110's and P-38's will now have torque applied correctly from respective engine regarding yaw. If only the right engine is running the airplane will now yaw to the left and vice versa.
--= P-51D no Rockets =--
The rockets have been removed from the P-51D. This since rockets were never used for the Mustang in the European theather, and in the Pacific theatre they were only used on rare occasions from Spring 1945.
---== THE DOUGLAS TBD-1 "DEVASTATOR" FULL REHAUL ==---
The TBD-1 Devastator was a major step in performance compared to the earlier biplane bombers of the US Navy and was in service by 1937. Although quite underpowered for it's loaded weight, this torpedo bomber made a good record of itself early in the Pacific war and was used in many different roles up until Midway 1942. In this battle the TBD-1's suffered heavy casualties without sinking a single carrier. This was in part due to the Devastator's slow speed and poor armor, but the largest factor was the absence of fighter cover and the significant faults with the Mark 13 torpedos, which often failed to explode or ran to deep. The TBD-1's were removed from active service after Midway, replaced by SBD's and TBF's, and thereafter instead used as trainers.
While an improvement from the earlier biplanes, the TBD-1 is inferior performance wise to the Japanese carrier bombers. The engine is relatively weak, it's radial R-1830-64 Twin Wasp engine capable of only 900 hp at sea level, and the Devastator's climb rate and maneuverability is poor. To put it simple the TBD-1 is quite a dog, and the SBD and TBF were better replacements. That being said, the TBD-1 can carry 3x 500 lb bombs, making it effective against enemy ground targets. The bombardier view also allows it to level bomb.
(Please note that the previous TBD-1 Devastator flightmodel in Warbirds had somehow been given a ~2150 hp engine and has been significantly overperforming compared to it's historical data up until this update).
---== THE AICHI D3A2 "VAL" FULL REHAUL ==---
The Aichi D3A1 made entry in 1940 and featured a 1070 hp Kinsei 44 engine. In Autumn 1942 it was replaced by the D3A2, which fielded the stronger Kinsei 54 engine able to produce 1300 hp. The "Val" was a potent dive bomber with a speed and climb performance outmatching that of any American naval bomber. It was quite maneuverable and sometimes used in a backup fighter role, although underarmed for this duty. The D3A2 had a fairly sturdy construction and sunk many ships during ww2, most often used in a combination with the B5N2 Torpedo bomber. The weakness of the D3A2 is that it's payload is quite small, able to carry only a 250 kg bomb and 2x 60 kg bombs. It is a good choice though for the pilot who wants a naval bomber able to more quickly get to the target at altitude, and with it's large wings the D3A2 can even turn with a Zero, although it's not as maneuverable or fast as the A6M fighter. This does however allow the "Val" pilot a chance of defending himself against enemy fighters. Also of note is that the D3A2 has a high service ceiling of 35700 ft.
---== THE NAKAJIMA B5N2 "KATE" FULL REHAUL ==---
This Nakajima torpedo bomber was quite a modern asset when it entered service in 1937, and it's performance easily outshone that of the TBD-1 Devastator. The B5N2 "Kate" was powered by the Sakae 11 engine, producing 1000 hp at sea level, and was also 800 lb lighter than the TBD-1. Used in combination with the D3A "Val", the "Kate" sunk many ships during the war and was used to bomb Allied ground targets as well. With adequate fighter cover the Japanese B5N2 and D3A2 were potent naval bombers, but started to suffer heavier casualties as Allied air dominance grew stronger with each year of the war. While not having as good speed and climb performance as the D3A2, The B5N2 can carry a higher payload, use torpedos and has a bombardier view, allowing it to level bomb. The "Kate" has no forward firing guns and while it's single defensive 7.7 mm rear gunner could bring an enemy fighter down with enough hits, don't count on this as a reliable defensive tactic. The "Kate" also has poor armor. Fortunately the B5N2 is fairly light with a large wing area and can turn just as well as the D3A2, allowing it to use it's tight turning radius to survive until help arrives. All in all the B5N2 is as good a choice for carrier operations as it's American counterparts.
Performance from testings of the new flightmodels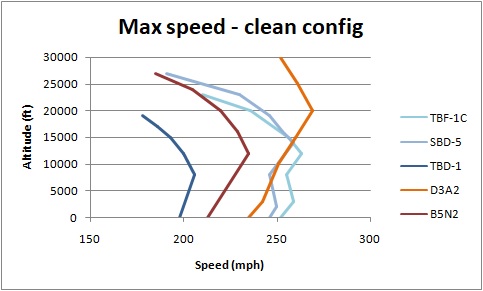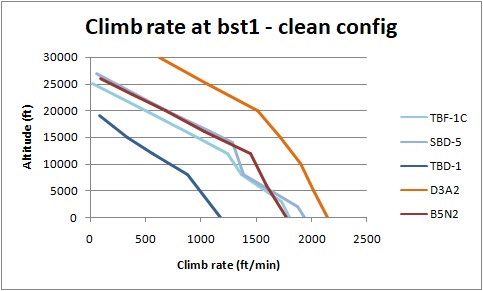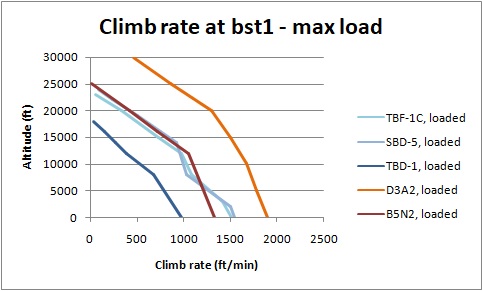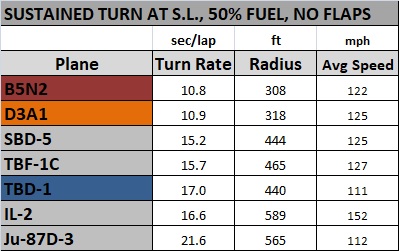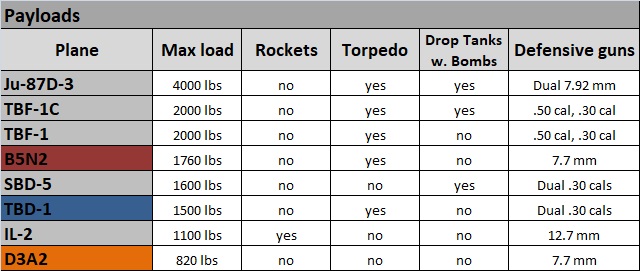 <S>
/Robert