Really nice videos Mspiro

. And great news for all Messerschmitt lovers is that the whole Bf 109 series and Bf 110 series is currently undergoing a total rework. Hoping to have them all released at the end of August.
Preliminary it seems the 109's will have a relatively high max AoA due to slats and an airfoil with 14.8/10.5 % thickness ratio at the root/tip, no wing twist. The stall speed will be around 74-76 mph for a Bf 109E-4 and 83-85 mph for a Bf 109G-6, this from estimating the stall speed from the wing design and comparing to all other remodeled fighters in Warbirds. This accessement goes quite well with a British ww2 trial claiming the stall speed to be 75 mph for a Bf 109E. The Oswald factor will be decent at 0.81 for the 109E's and .84 for the 109G's, which can be compared to their current awful setting of 0.597 (Mostly affects energy retainment ability when pulling G's). It will be really interesting to see how they fly once all the hard numbers/facts have been hunted down and coded into the models. Below are the preliminary weights of all the Bf 109's.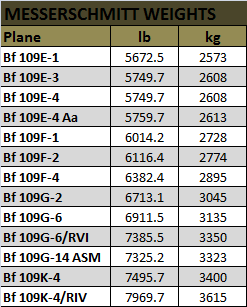 And now back to work with the 'Schmitts

<S>
/Robert