Quote:
...while the spitfire's cannon vary from useless to adequate from day to day...
Sorry but this sounds like problems with your connection. There is no one changing the guns settings of the arena from day to day.
Quote:
So whose agenda is this? It's clearly not, as I believe I have shown because the spit 14 actually unbalances the arena.
Yes it really does unbalance the arena. This from an air-to-air perspective. Maybe the F4U-4 is a ground attack problem and needs looking into, but why on earth should that prevent fixing the balance issue with the Spit XIV? I can not see the logic in that. The Spit XIV is hands down the best dogfighter in Warbirds and is a major issue for anyone wanting to fly another fighter. Why does everyone otherwise fly it? Yes it's a bit more twitchy than a F4U-4 in the controls, but a Spit XIV pilot flying at 70% of his planes edge can easily outfly and outturn a pilot flying at 90% of the edge of any P-51, Yak, Lav, P-38, F6F, Bf 109, N1K1 or Fw 190 in a dogfight.
The agenda is none but a game balance decision that really felt necessary. This since loads of players have been complaining about nearly everyone upping a Spit XIV all the time. I've heard several jokes that the sim should be called Spitbirds instead of Warbirds. Maybe the Spit XIV should be allowed from 2 fields per side so that capturing one of the rear LAF's doesn't prevent the other side from using it. This is however something that must be learnt from observing and experience. If you've ever tried to help design a game, you'll know it takes time to get things perfect.
Quote:
What the 14 IS really good for is getting to alt fast to defend a field,
Let's meet up in the arena some day, you flying a random late war plane and I will show you what the Spit XIV can do. Yes it has a few weaknesses, but it's strengths far outweighs these if you fly the plane correctly. Unless the enemies have a Spit XIV of their own I've several times been able to fight 1v3 and still win when flying it. You claim that a Spit V and IXe can outturn a Spit XIV... Yes they can, and a Fokker D.XXI, I-16 "Ishak" or A6M2 will also outturn a Spit XIV, but they have not even close to the performance in all other areas that the Spit XIV has. The data below is from turning tests I've recently ran. There are a few late war fighters that can almost match the Spit XIV in a turn fight, but the Spit XIV easily holds an edge over those regarding top speed and climb rate. The other late war fighters of similar top speed as the Spit XIV don't even come close to it's turn performance. As such I completely disagree that it's only good for climbing.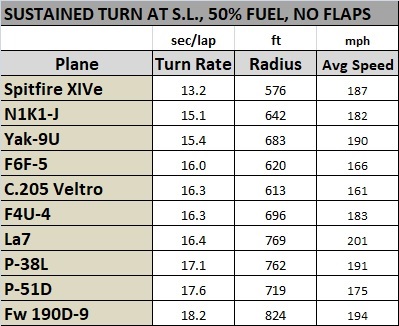 I consider myself a pretty skilled pilot and I enjoy flying different planes in the arena. I have often experienced trying to duel Spit XIV's 1v1 in a Yak, Lav, P-51, C.205, P-38, F6F, Fw 190 etc. Even against average pilots I've unfortunately learnt that my best chance is to simply run away before the Spit XIV can get close. Then if other friendlies join the area I can come back when the Spit XIV is busy fighting someone else so I can boom n zoom it. But 1v1 it hardly matters what I do. Even if I manage to outsmart my opponent several times in the fight, the Spit XIV pilot can often just go full wep and crank the stick back and there's almost nothing I can do but see him get right back on my six all over again. How do you then think an average pilot in a random plane feels when fighting 1v1 against a Spit XIV? Does this sound like good fun for people who want to fly the other planes of ww2? Please try to think from a larger perspective than just your own. Just because you like flying the Spit XIV doesn't mean that everyone else wants to be forced to fly it in order to stand a remote chance. I've been observing the arena since limiting the Spit XIV to the rear fields, and now I see way more other fighters being used since they now actually stand a chance in the match-ups. To me, a larger variety in ww2 fighters being used is a good direction for the game to head.
Also please explain why you must fly only the Spit XIV or otherwise threaten to leave the game. Is it because the Spit XIV is the plane of your childhood dreams, a relative of yours flew it in ww2, or is it simply because it gives you the best chance of success in the Arena? To be completely honest it is somewhat irrelevant if the F4U-4 is extremely good for ground striking. That is another issue that will need examining if it needs a solution of it's own. The Spit XIV rear field change is for adressing the Spit XIV issue. It is often easiest to fix one problem at a time, you can't solve every single problem in one go.
-------------------------------------
Let's actually do a thought experiment. You are a game designer of a competitive shooter game. The suggested characters that players can choose freely among in the game are the one's below.
RAMBO
Speed: ✰✰✰✰✰
Agility: ✰✰
Guns: ✰✰✰✰
THE NINJA
Speed: ✰✰✰
Agility: ✰✰✰✰✰
Guns: ✰✰✰
THE BRITISH BULLDOG
Speed: ✰✰✰✰✰
Agility: ✰✰✰✰✰
Guns: ✰✰✰✰
MR KLAUS VON ABERSDORF
Speed: ✰✰✰✰✰
Agility: ✰
Guns: ✰✰✰✰✰
THE BRITISH BULLTERRIER
Speed: ✰✰✰
Agility: ✰✰✰✰✰
Guns: ✰✰✰✰
Would you also think that "The British Bulldog" will become a game balance issue that needs addressing? I am sure the people who play "The British Bulldog" character will love to bully around anyone playing other characters and marvel in their own success and "skill", but is it a good game design to let players choose him freely? Or would it be smarter to let people who like a British character instead play his little brother "The British Bullterrier" who has the same look and all the same skills but with a little slower top speed? (i.e. Spit IXe vs Spit XIV). To me it's quite clear that "The British Bulldog" somehow needs to be restricted in use.
<S>
/Robert