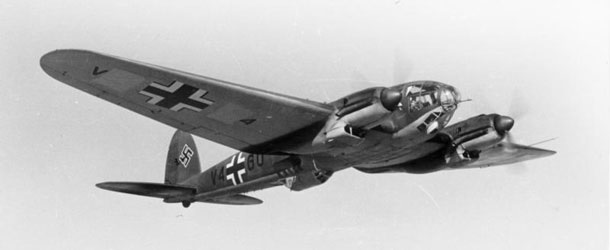 The update is now live and ready for download
---== UPDATE FL2080: THE "AIRLINERS" OF HEINKEL ==---
By: Robert & Grumpy
All made possible by: Bcamel (creator of the program used to model the airplanes), and Idunno (who has shared a vast amount of aerodynamical knowledge).
--= Heinkel He 111H series =--
We are happy to announce that the He 111H-3 has been fully remodeled. Also the He 111H-16 has been modeled and added to the Warbirds roster. See further down for details.
--= Ju 88's =--
* The Ju 88A-4 now has a pilot operated 7.92 mm machinegun again. The 20 mm cannon is operated with the secondary fire button.
* RPM propeller reduction gear corrections (less torque). Fuel burn corrections (slightly higher).
* Landing gear brake efficiency and bombbay door dragco adjusted.
--= Ju 87's =--
RPM propeller reduction gear corrections (less torque). Fuel burn corrections (slightly higher).
--= LaGG-3 s35 =--
Now uses the default "White 64" winter skin, made by Iart7.
--= Yak-1 =--
New beautiful "Black 9" winter camo skin, made by Iart7.
--= Bristol Blenheim Mk IV =--
A quick-modeled version of the Blenheim Mk IV has been made for use in Squad Select Series scenarios. It uses the B-25C 3d model as a substitute but should otherwise be quite close to the historical perfomance of the Blenheim bomber regarding speed, engine-build, wing-build, service ceiling, bomb loadout, armament etc.
--= Renaming =--
A few models have had their in game name corrected, such as removing the name of the manufacturer for consistency among all planes, or having the spacings etc fixed.
* C-47 Dakota (previously: Douglas C-47 Dakota)
* L2D3 Tabby (prev: Nakajima L2D3 Tabby)
* He 111H-3 (prev: He111-H3)
* B-339E Buffalo Mk I (prev: B339 Buffalo MK1)
* B-239 Brewster (prev: B239 Brewster)
---== THE HEINKEL HE 111H SERIES FULL REHAUL ==---
By many considered to be a beautifully shaped plane, the He 111 was Germany's most used bomber during the Battle of Britain and the early war. Due to the Versailles peace treaty, Germany was not allowed to field an airforce after WW1. As such the He 111 was officially built as an airliner, but secretely designed to be easily converted into a bomber. The He 111 had quite large, thick wings for it's weight, and as such had a low stall speed. This makes it quite easy to land, take-off, and bomb with. While not able to match the speed of the Ju 88A-4, the He 111 still allows for a respectable bomb loadout for a medium sized bomber. As for all German bombers, the defensive armament is not impressive. The later versions are better armed though, and the nose gunner in both the H-3 and H-16 fielded a 20 mm MG/FF cannon that can help fending off enemy HO attempts. Having some escorts nearby increases one's survival rates considerably however, especially against heavily armed late war fighters. The He 111 is overall quite stable, ruggedly built and easy to fly.
--= He 111H-3 =--
The H-3 is powered by Jumo 211D-1 engines, able to produce 1047 hp at 1.15 ata, and 1255 hp for one minute stints at 1.35 ata. The top speed is 258 mph at 16600 ft. The defensive armament is quite weak with only single 7.92 mm MG's in the defensive positions, except for the 20 mm MG in the nose. The H-3 can carry up to 2000 kg of bombs though. The new H-3 is faster than the old Warbirds model, and now matches historical numbers.
--= He 111H-16 =--
The H-16 was improved with Jumo 211F-2 engines, capable of 1228 hp at 1.25 ata, and 1401 hp for one minute stints at 1.40 ata. This resulted in an extra 14 mph top speed of 272 mph at 19000 ft. The defensive armament was also somewhat upgraded with 13 mm MG's and twin barrel 7.92 mm MG's replacing the previous single 7.92 mm guns. Thanks to external rack the H-16 can carry up to 2800 kg of bombs.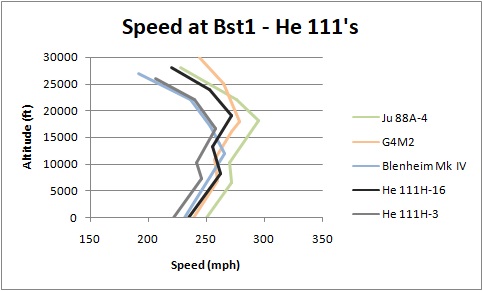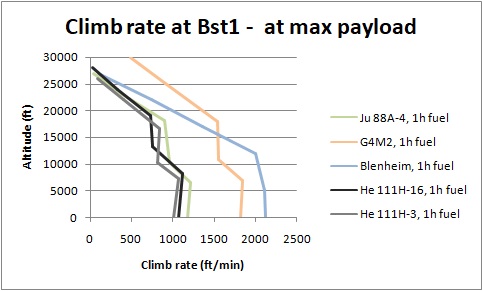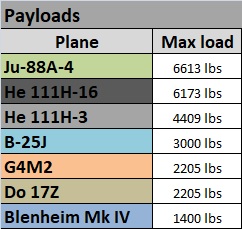 <S>
/Robert