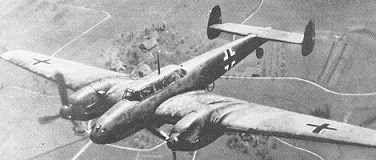 The update is live!
---== UPDATE FL2061: ZERSTÖRERS ==---
By: Robert, Grumpy and Bollok
All made possible by: Bcamel (creator of the program used to model the airplanes), and Idunno (who has shared a vast amount of aerodynamical knowledge)
--= Messerschmitt Bf 110 Zerstörer series =--
Full rehaul of the Bf 110C-4 and Bf 110G-2. See further down for details.
--= Bf 109K-4's =--
The MW50 WEP has been reduced from 1.98 ata to 1.80 ata. This since the absolute majority of Bf 109K-4's used B4 fuel and not C3 fuel during their service. As such both Bf 109K-4's have had their engine setup rebuilt from the DB 605DC to the DB 605DB engine. This results in ~10 mph loss at Bst2, but the K-4's gain ~5 mph at lower altiudes, at Bst1, due to better low alt power output when using manifold pressures at 1.45 ata and lower with the DB 605DB engine.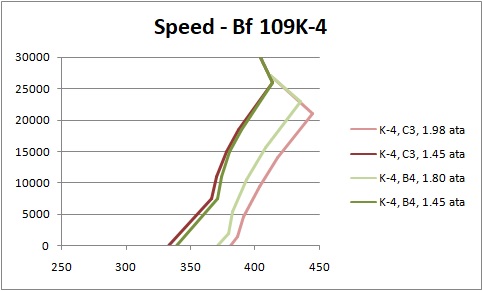 --= Lavochkin series =--
* Liftco increased for a lower stall speed for all La5's and La7's. From 102 to 95 mph IAS at 7015 lb.
* Wing efficiency somewhat reduced to better simulate the effects of leading edge slats.
* Flaps liftco adjusted, slightly lowered at smaller angles.
* Small dragco increase for the La7's. From 413 to 411 mph top speed at 20 000 ft.
* Stall behaviour slightly harsher than before. All in all though the Lavochkins will turn a bit better now.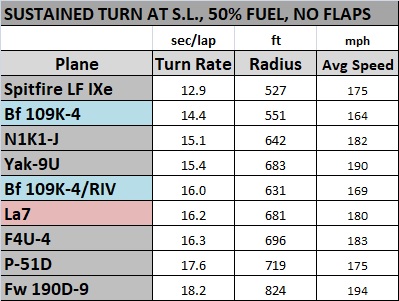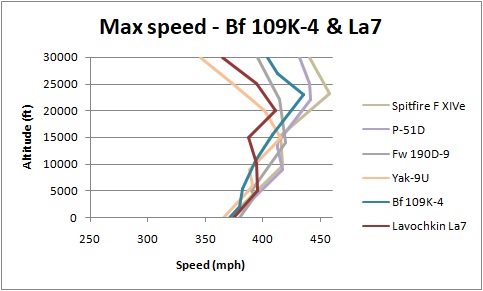 --= Hitmap fixes =--
Reworked hitmaps for the Focke Wulfs, Mustangs, Zeros, Hawks, Macchis, Lavochkins, Wildcats and Hellcat.
--= P-40F =--
Cockpit fix, the cockpit of the P-40F should be rendered at it's correct location with this update.
--= Additional content =--
* New version of North Sea terrain
* New version of Valley terrain
* Fix for bomber wingmen so they will fly ahead when given negative formation length
---== THE BF 110 ZERSTÖRER SERIES FULL REHAUL ==---
The Messerschmitt Bf 110 was designed as a twin engine long range fighter for escort missions, and as a fighter-bomber. In the invasions of Poland and France this Messerschmitt saw good success, but did not fare as well in it's fighter role in the Battle of Britain. The British fighters were simply faster and more agile. This plane can be very effective as a bomber-killer or fighter-bomber though, packing a heavy punch and able to carry payloads of 2x1000 kg bombs. Against Bf 110's, a bomber is in big trouble without escort. It is quite hard to dogfight nimbler opponents 1v1 with the Zerstörers, but they are not terrible at turning and if working in wingpairs the Bf 110's can actually be lethal by using Thach weave tactics, letting their big guns speak. Smart Bf 110 pilots would do well to enter the combat area at a higher altitude than their opponents, allowing them to pounce on bombers or avoid bad match-ups. If left unmolested, the Zerstörers can also be very effective at dive bombing and strafing fields.
--= Bf 110C-4 =--
The Bf 110C-4 is equipped with two Daimler-Benz DB 601B engines, which are the similar to the engines used by the Bf 109E-3, but with a different propgear ratio. It is armed with four 7.92 mm MG's and two 20 mm cannons. The Bf 110C-4 is not as nimble as the majority of early era fighters but is decently fast unless matched against Bf 109's or Spitfires. This Messerschmitt is best used as a bomber-killer or for jabo missions, but can be effective if boom n zooming through fürballs or going head on. The single rear-facing 7.92 mm MG can bring down an enemy if lucky, but shouldn't be counted on as an adequate defence.
--= Bf 110G-2 =--
The Bf 110G-2 packs a very heavy punch with two 30 mm cannons and two 20 mm cannons, and can be even better armed with two extra 20 mm cannons in a gunpod, air-to-air rockets or even a devastating 3.7 cm BK cannon. The engines are of the DB 605B model, with the same power output as the DB 605A engine used by the Bf 109G-6. The Bf 110G-2 is best used for killing bombers and for jabo missions, but enemy fighters need to beware as this Zerstörer will often kill with a single burst. It has a somewhat upgraded defensive armament with a double barreled 7.92 mm MG, the MG 81Z, but still shouldn't rely on this gun for defence. Contemporary fighters will usually have a higher top speed than this Messerchmitt so always keep a good situational awareness, and while smaller fighters will out turn the Bf 110G-2, it can actually turn inside many of the heavier late war fighters.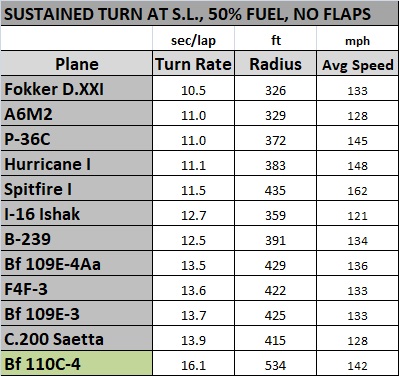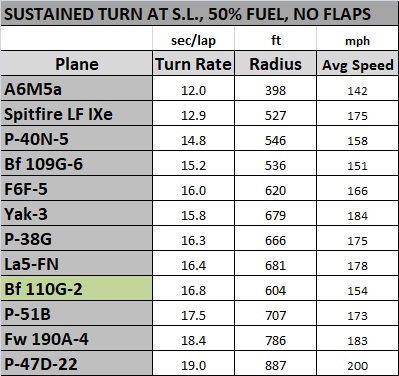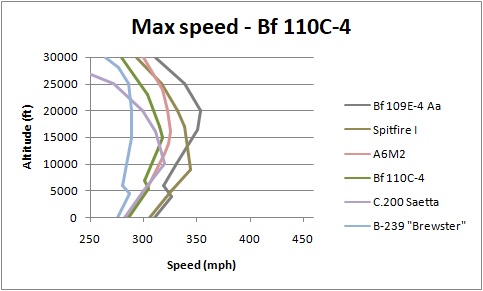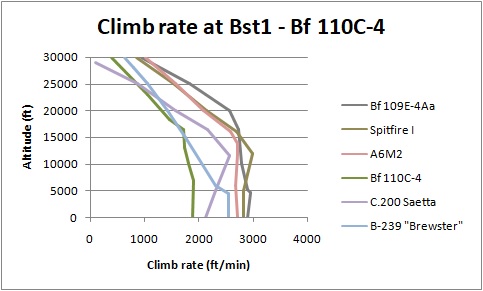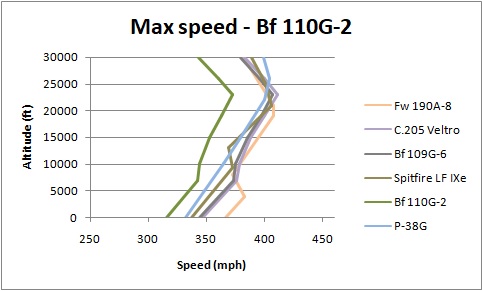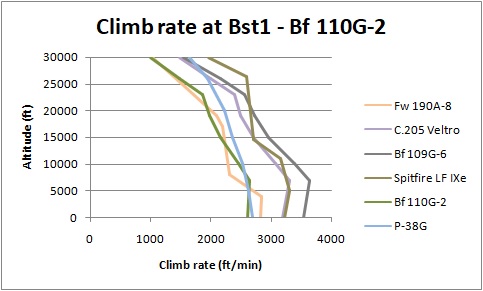 <S>
/Robert